Rooms in Füssen in Allgäu
Relaxation in harmony with nature in the organic Hotel Eggensberger
Arrive, unpack and feel at home ... in your room in Füssen in Allgäu! In the organic hotel Eggensberger – our peacefully located, comfortable hotel on the southern slope above the Hopfensee Lake – one thing is our priority: your relaxation. And relaxation comes automatically in our bright, spacious rooms, furnished with natural materials!
Enjoy the charming view of the lake, mountain backdrop, pre-alpine landscape, castles and mountain meadows. Most of our rooms have a balcony or terrace where you can breathe deeply and enjoy the sun.
What you can't see immediately but you will feel: All of our rooms are equipped with a mains disconnection relay and a "good-night" switch for reducing electro smog in the sleeping areas as well as a natural sleeping system. And we have also thought up many amenities to allow for healthy living during your holiday in Füssen in Allgäu.


Choose your feel-good room ...
Early booker advantage
Book your stay at least 30 days in advance and you will receive a 10% discount during low season and a 5% discount in mid and high season on the room price, packages, treatments and offers. 
Cash value voucher
Accepted value range:
from € 50,--
Delivery method
Presentee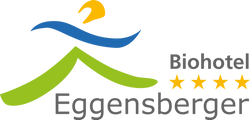 Biohotel Eggensberger
Eggensberger OHG
Enzensbergstraße 5
87629 Füssen - Hopfen am See
Germany
Do you have any questions?
+49 8362 91030
+49 8362 9103478




Your data is safe!
PCI DSS
In compliance with the standards according to the Payment Card Industry Security Standard for companies that save, process or transmit credit card data.
Encrypted transactions
In an encrypted transaction, the data is transmitted securely from your computer to us and protected from third-party access.
Voucher 1
Cash value voucher
€ 50,--
Delivery method
Via E-Mail
To me
Total price:
€ 50,--
VAT included
Payment details