The key to a higher quality of life
Health Weeks
One week with a medical wellness package will already prove effective. Give your body a break - it will thank you.
With the magnificent view of the Alps, fresh mountain air in your lungs and enough time to unwind for once, the path to a healthy lifestyle and more self-awareness will be easy. An opportunity to tackle this - a medical wellness holiday will make you strong for life. You can use the extensive range of services offered by the Therapy Centre, which is headed up by physicians, and, in doing so, you can enjoy the comfort of our 4-star organic hotel.
After an Individual introductory interview with a doctor, alternative practitioner or physiotherapist, the content and focus of the treatment package will be tailored to your individual needs.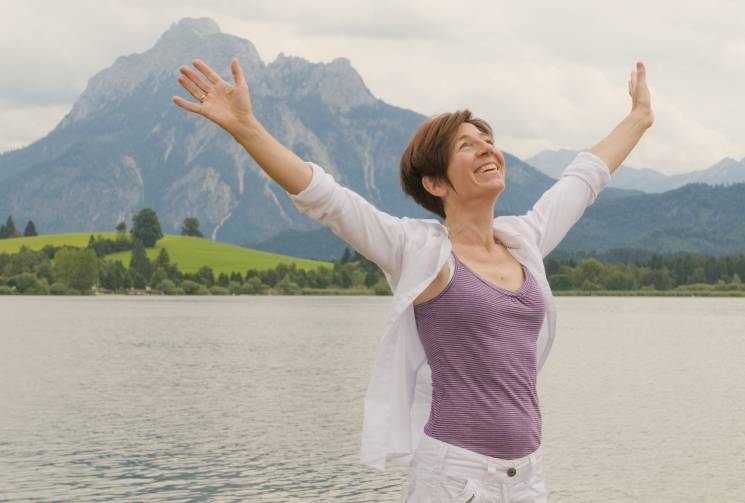 Time to recharge your batteries
at the Medical Wellness Hotel
As a 'health time business' and member of the association of Allgäu Alpine Wellness Hotels, we applied for certification by the Wellness Stars quality certification organisation. After a review of our quality based on more than 400 criteria, our medical wellness offering was awarded 5 stars. This was a great honour that further encouraged us in our efforts. As a health resort, the Biohotel Eggensberger is more than just a spa and wellness hotel in Hopfen am See.
The combination of holiday and medical wellness will be good for your health, too.
Healthy Breaks
Medical Wellness offers
Many MED-PLUS-SERVICES provide a healthy framework when booking a health week:
EXERCISE: e.g., pulse-controlled ergometer training, aqua aerobics, healthy hiking, Nordic walking at the lake
RELAXATION: e.g., meditation, mindfulness and breathing exercises, yoga, autogenic training, Five Tibetans
HEALTH LECTURES: current topics and expert knowledge on all aspects of nutrition, Kneipp, sleep, herbal knowledge, dealing with stress, back/knee trouble
FOOD: fresh and organic vitality cuisine - low-carb/vegetarian on request
LIFESTYLE: On the basis of Christian values, we work together with the Catholic spa chaplaincy and the Füssen Franciscan monastery.