Savour naturally in the organic hotel in Germany
Allgäu-fresh, healthy and delicious!
The Eggensberger is not just an organic hotel somewhere in Germany, but rather the first certified organic hotel in the Allgäu region. You can taste our local colour and our love of nature: The fresh ingredients we put in the pots and on the plates are, for the most part, seasonal and locally grown.
The meals that our chefs prepare fresh for you are inspired by the Allgäu environment and its treasures. Fresh herbs and selected spices emphasize the original taste. Themed buffets and meals with dishes from other German regions or European countries allow for variety. Colourful variety can also be found in the pastries, appetizers and desserts. 
Try our organic vitality cuisine for pure life energy! 
The best of the Allgäu region ...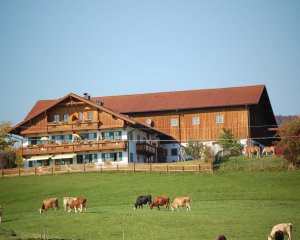 We use 100% organically grown or produced ingredients. Many of our ingredients even come from the region: from our family-owned "Bioland" farm or from organic farmers in Allgäu and neighbouring Tyrol.  Wines, juices, beers and refreshing drinks are also organic here - naturally!
Get to know our organic partners ... 
Know where goodness comes from ...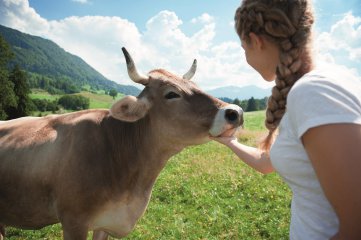 Fresh milk and milk products (You have to try the whole milk yoghurt and the estate cheese at the breakfast buffet!) from Josef Eggensberger's happy cows – and the beef and sausage specialties (pure beef) directly from the family-owned organic farm.
Bread, spelt pretzels and whole food rolls are delivered fresh daily from the organic bakery in the sourounding and bakery Schneid from Nesselwang
Meat and sausage specialties from the Bühler and Juffinger butchers, from the Floschenhof farm and the Peter goat farm
Incomparably aromatic and always freshly roasted: top-quality organic coffee from the Bühler coffee roasting house in Oy-Mittelberg; further coffee sorts (also decaffeinated) with Transfair-Siegel
Allgäu vegetables from the Grasserhof fields and greenhouses.
Honey from "Bienen-Betz's" busy bees
Organic wines from our main vintner Schwarztrauber from the Pfalz region, and organic German wines from Höfflin and Riegel as well as organic wines from the Austria.
Refreshing Leonhardsquelle water, organic crystal mineral water & organic soft drinks from Neumarkter Lammsbräu and Clemens Härle and Riedenburger beer.
High-proof drinks from the Eifel Distillery and from Dwersteg as well as liqueurs from Poidl
Fish from Deutsche See
Regional and national organic products through the organic suppliers Ökoring, Rapunzel and Beron-Naturkost
Other products from Vegaroma, the Allgäuer Ölmühle and Allgäuer Alpenwasser
Controlled organic quality: The regular inspection by the EU Organic Farming Regulation and under the strict guidelines of Bio - Hotels , we promise you the origin of all food products from certified organic production. Our organic control no.: DE-ÖKO-006
Take a seat ...
... in one of our rustically elegant restaurants with a panorama view. We serve you vitality cuisine – either as organic gourmet half board or as the organic nutrition method, "Bio-Logi". When the weather is good, you can enjoy the coffee and pastry specialties, ice cream and drinks on the sun terrace.  And if the weather's not playing along, you can linger comfortably in the winter garden.  
A great ending of your day in the Hotel Eggensberger is a cocktail in our hotel bar "Alpenglühen".  How about a freshly mixed cocktail from the bar menu which includes everything from the Basil Mojito to the Whiskey Sour? They are a pleasure with or without alcohol!
Merken
Merken
Merken
Eat what makes you feel good!
Start your day in the organic hotel Eggensberger with an Allgäu-fresh breakfast buffet. On Sundays, for a surcharge, we also offer our popular organic brunch buffet which attracts many local regular guests (not in the summer and during the Christmas holidays).
During the day there are three delicious gourmet variations for you to choose from during your organic holiday in Allgäu:
Organic Gourmet Half Board *
Pure pleasure: A four-course, organic connoisseur meal with ...
Salad or appetizer buffet
Soup
Your choice of main dish
Dessert
Or: varying themed buffets which always include vegetarian options
* You may choose to enjoy various courses throughout the day. Every day you can choose between the organic gourmet half board and the vitality board **! (Not available on buffet days or weekends.)
Vitality board **
The delicious and light choice: Two courses for lunch comprised of  ...
Salad from the buffet
(vegetarian) vitality dish
In the evenings you can choose two courses from the following ...
Salad
Soup
Main dish of your choice
or dessert
** As a guest during the week you can choose daily between the organic gourmet half board and the vitality board. Just let our breakfast personnel know! (Not available on buffet days or weekends.)
Organic nutrition method, "Bio-LOGI" ***
Lose weight with "LOGI": fewer carbs for more vitality.
mid-day / evenings choose a Bio-LOGI dish
or ...
*** Losing weight on vacation is one thing, holding your weight afterwards is another. Our individual LOGI-coaching will show you how!
Carefree pleasure in the organic hotel in Germany
We want every guest to be able to enjoy a pleasurable, carefree holiday. If you have special dietary needs, for example due to allergies or intolerances or any other reason, please let us know ahead of time – preferably upon booking. Our kitchen will be happy to accommodate your needs!  Depending on your needs and the ensuing costs and efforts, we reserve the right to charge some money for the effort. The same is valid for vegan meals. 
Furthermore, our dietetically trained team with its therapeutic and nutritional-physiological expertise is at your disposal – so you can enjoy a completely carefree culinary voyage of discovery in our organic hotel in Germany.